Federation of Indian industry (FII) signed an MOU with Sri Ram Institute (SRI) for Industrial Research New Delhi on Wed. 16th Feb 2022
11:01 AM Feb 19, 2022 IST |
sam sss
FII PRESS NOTE                                                                                 16 FEB, 2022
FII was invited by SRI management for a facility visit and established a collaboration towards skill development and startup support through signing an MoU with SRI. Mr. Raman Saluja from FII and Mr. Mukul Das, Director SRI signed the MoU in presence of the Director General Mr. Deepak Jain and Mr. Vijay Sardana Chairman FII Agri committee.
Mr. Mukul Das, Director SRI said that the SRI labs have all the necessary infrastructure that can accelerate industrial research and product validation. SRI has built a formidable reputation for quality and reliability and is a well-known name across the Industries. They have hundred plus scientists and a big campus of 10 acres with 15 world class laboratories adjacent to Delhi University campus.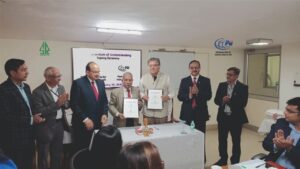 Mr. Vijay Sardana who has been appointed as the techno legal advisor and advocate for the SRI and is the driving force for the support of the MSME industry. Speaking on the occasion Mr. Sardana said that SRI is an independent, self- sustaining, not-for-profit multidisciplinary contract research institute conducting research and development in the areas of special significance to industry, government agencies and other organizations and is committed to develop, innovate, analyze, and apply technology for products and processes since 1947. He said that SRI and FII should work towards preventing sickness of industries by incorporating the right corrections in product quality and remain viable in the market.
Speaking on this occasion Sh. Deepak Jain highlighted that FII is committed towards strengthening the economy and industry through its initiatives. It understands the pain-points and works in a positive way by addressing the roots of the problems. He said that FII is operating through its various divisions in almost all areas like energy, power, auto, infrastructure, healthcare and biotechnology. FII has its network in 42 countries of the globe and 22 Indian states through its coordinators or chapters. It operates by way of bridging tie-ups with Institutions and Universities. He said the current MoU between FII and SRI will create a benchmark in accelerating the objectives of bothe the organizations. It will also be a boon to the Startups and various skill development programmes that FII supports. Recently, FII recognised biotechnology as a key-sector having the potential to unleash the growth of the Indian economy even upto USD 10 trillion and jointly with SRI this can be achieved. An operational policy can be implemented towards this direction.
*He added that Innovation is the basic driving force for economic and financial development. Industrial research is the backbone of the economy. There are huge contrasts between Indian Industry's own Research and Development endeavours and the level of the global Research and Development. SRI can play a critical role in this regard. It is important for agricultural development, Science and technology amalgamation, capital formation, defence production, environmental sustainability, national and per capita income growth. FII understands the role of global Research, business and proficiency towards economic development and strenthening. *
Dr. Shailendra Vyas, chairperson startup committee highlighted the requirement of such collaborations that can pivot the product and process development, and achieve a 'Zero defect' parameter much essential for the product qualification and acceptance in the world. Mr. Uditendu Verma, Chairperson Social Committee suggested that both organisations must come out with regular events for the larger benefit of the society.
The FII delegation consisted of 21 members. The SRI department HOD presented the different services they are providing in areas of material sciences division, analytical sciences division -biological and non-biological, environmental protection division, metal and minerals division, Gamma radiation facility and the Technology Business Incubator division. The discussion centred around how best the industries can either use the technology to overcome issues of quality defects and also covert ideas to products ranging from POC to market acceptability.
The event was followed by a joint lab-visit of the FII delegation.